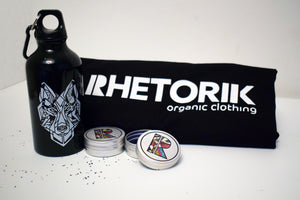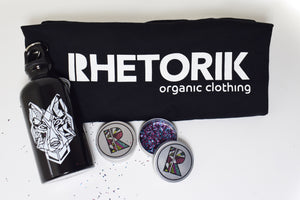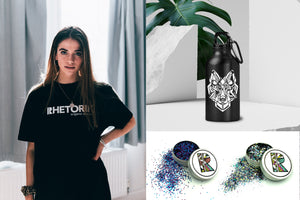 The Gift Box
The Wolf Bottle, an organic cotton Rhetorik Tee and two tins of eco-glitter. Gifts for all the family!⁠
⁠
A bundle worth over £50, yours for only £25 until Christmas.⁠
⁠
And as an extra treat, we're delivering anywhere in Cardiff up until midday on Christmas eve.⁠
Made in India, in a renewables powered factory. Endorsed with Ethical Accreditation by the ECO (Ethical Company Organisation).
The printing and garment alterations such as labelling were made in the UK / Britain. Printed using environmentally friendly water based inks, in a workshop partially powered by solar panels.
As with most of Rhetorik's fashion, the T-shirt is unisex / mens / womens / gender indiscriminate.